Teams competing in the Carabao Cup third round averaged almost eight changes a side as questions continue over the competition's relevance.
Figures collected by Press Association Sport reveal the extent of the changes made across the midweek knockout games.
Manchester United boss Jose Mourinho said he could see the argument for saying the English game would be better off without the League Cup after his team beat Burton at Old Trafford on Wednesday night.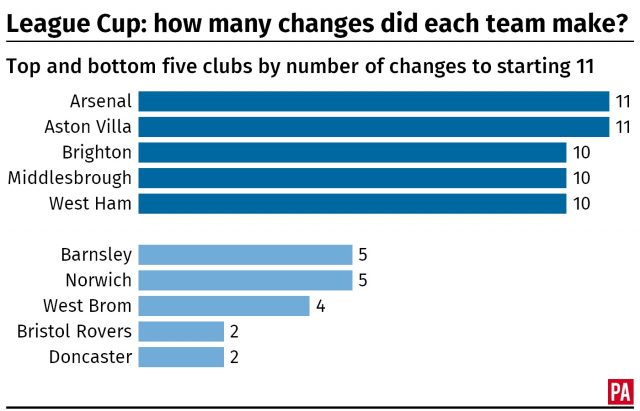 Both sides made nine line-up changes from their respective league games at the weekend, and Mourinho said: "If you ask me could English football survive or even be better without this competition? Maybe.
"Maybe we would be fresher for European competitions, for example."
Two teams – Arsenal and Aston Villa – made 11 changes, although in the Gunners' case they were still strong enough to beat Doncaster, who made the joint-lowest number (two, along with Bristol Rovers).
Brighton, West Ham and Middlesbrough made 10 switches apiece, but the latter two progressed to the last 16 with wins over Bolton and Villa respectively.
In total there were 245 changes, which averaged out across the 32 teams as 7.66 changes per side.
There were more Everton appearances in total (238) in the Sunderland line-up than there were in the Toffees' starting XI (230) when those teams met at Goodison Park on Wednesday night.
Here is the full list of changes per side, from most to least:
11 Arsenal, Aston Villa; 10 Brighton, Middlesbrough, West Ham; 9 Bournemouth, Bristol City, Burton, Chelsea, Crystal Palace, Huddersfield, Leeds, Manchester United, Reading; 8 Everton, Leicester, Liverpool, Manchester City, Nottingham Forest, Wolves; 7 Bolton, Brentford, Burnley, Swansea; 6 Stoke, Sunderland, Tottenham; 5 Barnsley, Norwich; 4 West Brom; 2 Bristol Rovers, Doncaster.