Crisis talks between Taoiseach Leo Varadkar and Fianna Fail leader Micheal Martin to avert a general election broke up on Monday night without resolution.
Discussions are due to resume on Tuesday morning before a crucial vote of no confidence in Ireland's deputy premier Frances Fitzgerald is scheduled to take place, potentially causing the Irish Government to fall.
A spokesman for the Taoiseach said there was "serious engagement on both sides" during Monday night's talks. He added: "All remain keen to avoid an election in the interest of the country."
Earlier Mr Varadkar again stressed his support for Ms Fitzgerald, who is under renewed pressure to resign over her handling of a police whistleblower scandal.
It emerged on Monday that she was emailed in 2015 about an alleged "aggressive stance" towards Sergeant Maurice McCabe while she was justice minister – deepening the political crisis.
It was one of three emails she was sent about the legal strategy of the Garda force against the whistleblower.
She received lines to take in public on the officer, who was taking part in a judicial investigation into policing in the Irish midlands.
The new emails emerged as the future of Ms Fitzgerald's ministerial career hung in the balance. She has said she cannot recall the contents of that message.
However, a department of justice civil servant wrote that the minister had "noted" the email.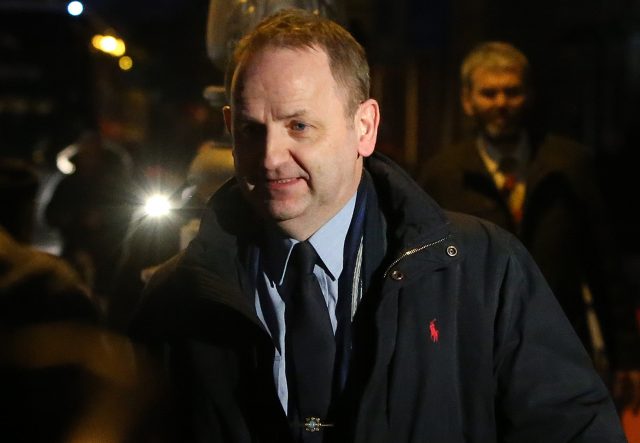 Despite ongoing calls for her resignation over her handling of the original 2015 email that revealed attempts to discredit the Garda whistleblower, a spokesman for Mr Varadkar insisted on Monday night that the Taoiseach continues to stand by her.
The confirmation of the Taoiseach's ongoing support came as Mr Varadkar and Fianna Fail leader Micheal Martin met for crisis talks in a bid to prevent a snap election having to be called.
Ms Fitzgerald also showed no indication of stepping down when she took to Twitter on Monday night to defend herself.
She tweeted: "As Justice Minister I could not interfere with the O'Higgins Commission. This is confirmed twice in today's docs & has been confirmed by the AG (Attorney General).
"The Tribunal will objectively judge the appropriateness of my conduct. I look forward to giving my evidence to the Tribunal early in January."
Sinn Fein parliamentary representative Donnchadh O Laoghaire said: "The case for the defence for Tanaiste Frances Fitzgerald has been unravelling for days. It has now collapsed."
Ms Fitzgerald was contacted on May 15, 2015 and July 4, 2015 by officials in the Department outlining the strategy of the former Garda Commissioner, or top officer, Noirin O'Sullivan.
One of the messages from Ms Fitzgerald's officials said the Commissioner phoned to let him know they had received media queries about Sgt McCabe.
"They were asked was it the case that Sgt McCabe was looking to be taken out of the traffic unit in Mullingar and was it the Garda Commissioner who had instructed counsel to adopt an aggressive stance towards Sgt McCabe at the O'Higgins Commission."
According to emails released by the justice department on Monday night, an official emailed Ms Fitzgerald on lines to take if Sgt Maurice McCabe was raised with her.
He said Ms Fitzgerald should stress her belief "that Sgt McCabe is a valued member of the force".
Fianna Fail, which has been supporting the minority Fine Gael-led government, has demanded the resignation of Ms Fitzgerald over the affair.
Last-ditch negotiations, which could see a radical overhaul of justice affairs, are said to have been constructive.
"We are trying to find a middle way that allows the Government to continue and continue with the important work we are doing, particularly with Brexit and ensuring that we have necessary legislation through," the Taoiseach said. "We are doing everything we can."
If no compromise is reached then it will lead to the collapse of the delicate confidence and supply arrangement that was supposed to see Mr Martin's party support the minority Fine Gael Government until the passage of the Budget in late 2018, and abstain in any no-confidence motions against ministers.
The Taoiseach said only Sinn Fein wanted an election.
Mr Martin has refused to back down on a motion of no confidence in Tanaiste Mrs Fitzgerald.
It is scheduled for Tuesday night and, if Fianna Fail follows through with it, the confidence and supply pact would be broken and the Government would fall.