Ministers would be legally bound to consult their official watchdog on major tax and spending changes under Labour plans to prevent a recurrence of Liz Truss's ill-fated mini-budget.
Labour leader Sir Keir Starmer vowed on Friday to introduce legislation to ensure that the Office for Budget Responsibility (OBR) has the power to independently publish their own impact assessment.
His shadow chancellor, Rachel Reeves, said the plans would ensure that "never again" can the "disastrous mistakes" of the short-lived Conservative prime minister be repeated.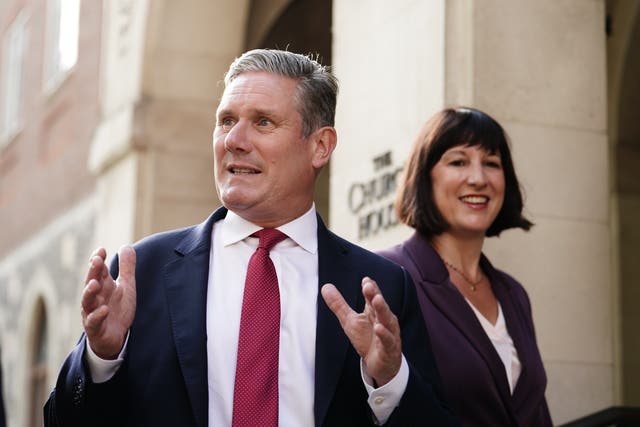 They announced the plan, if they win a general election, ahead of the first anniversary of Ms Truss and her chancellor Kwasi Kwarteng's £45 billion spree of unfunded tax cuts.
One of the reasons the markets were so spooked by their mini-budget was that they refused to publish the OBR's independent forecasts for the public finances alongside the plans.
Labour promised to amend the rules so the OBR would be able to independently publish the impact of any major fiscal event making permanent tax and spending changes.
The party said that ministers would be forced to open their books to the forecasters, though any government wanting to disregard them could seek to reverse the legislation.
Speaking before a visit to the London Stock Exchange with Sir Keir, Ms Reeves said the proposals would act as a "fiscal lock" to prevent the turmoil seen under Ms Truss.
"The economic damage done by the Conservatives' mini-budget was nothing short of disastrous, and Britain is still paying the price, with higher mortgages, higher energy bills and higher prices in the shops," Ms Reeves said.
"Never again can a prime minister or chancellor be allowed to repeat the disastrous mistakes of last year's mini-budget."
Boris Johnson also considered not going to the OBR before the first budget of his premiership, but this was rejected by his then-chancellor Sajid Javid, according to a book by the Telegraph's political editor, Ben Riley-Smith.
The Labour plans would allow for changes to be introduced without forecasts in the case of an emergency, but the OBR would be allowed to set a date to publish its work.
The party also said it would set out a fixed timetable for annual autumn budgets, followed by a spring update in early March, to give families and businesses time to prepare for changes.